President's Message: Summer Reflections: Spotlight on CWL's In-House Counsel Network
Kelly Robbins, Robbins Family Law
In the hazy days of summer, I am taking a minute to reflect on one of CWL's greatest member benefits - the In-House Counsel Network (IHCN). CWL Past President Eliza Rodrigues conceived and launched IHCN during her 2012-2013 term as president. Her IHCN initiative created a structure and forum for CWL members who work as in-house counsel to actively discuss issues and ideas unique to their position - employed by a company or entity to oversee legal matters, but who don't have a law firm or institutional environment that provides access to similarly situated colleagues. Her vision was to create that forum and establish the policy under which CWL welcomes in-house counsel members to get together to meet peers and colleagues statewide and across industries.
CWL's statewide presence makes this member benefit truly valuable and will move California forward in advancing the CWL mission. As one example, the IHCN will promote discussion of ways to assure that women attorneys are working on projects, as opposed to having the law firm bring a female to the initial meeting with in-house counsel. In this way and many others, step by step, project by project, the IHCN will create a more balanced future for this gender-divided society. Now, in 2016, our own Neda Mansoorian (CWL past president 2013-14) has put her amazing energy into IHCN and has built the program to feature another "Whiskey and Bites" event, along with the CWL IHCN signature "Puzzle" series, and a uniquely exclusive program retreat this fall.
We are thrilled to have the In-House Counsel Network be a powerful, unique tool in our state-wide mission for equality. I acknowledge the founder, past-president Eliza Rodrigues, as well as Neda Mansoorian and others who are contributing and will in the future be a part of CWL's IHCN, for this great opportunity to balance the professional gender scales. A brief video for some background is here
Remember Sara Lee's Call to Action: Only 1 in 5 Big Law Firm Partners Is a Woman, White Paper Finds
By Andrea Ventura
Hey Ladies! Remember Sara Lee's Call to Action? If not, you should. It is a program invoked by Sara Lee to encourage legal departments for large corporations to "end or limit their relationships with law firms that failed to increase the number of women and minority attorneys hired and retained within the ranks," according to The Law Firm Gender Diversity Index: Findings and Analysis, a white paper by NavForward, Above the Law, and Bloomberg Law.
Chief legal officers from approximately 120 large corporations signed onto this Call to Action in 2004, according to the white paper. And over 21 percent of the Call to Action signatories claimed to have fired outside counsel on the basis of lack of diversity, according to the white paper. And maybe that helped in promoting women and minorities in the legal field. Or maybe the Call to Action initiative stopped altogether because, approximately ten years later, the Law Firm Gender Diversity Index found that, as of December 2014, domestically, only 1 in 5 partners in the AmLaw200 law firms is a woman, according to raw data analyzing 200,000 attorneys in big law firms by gender. In Los Angeles, 22% of these AmLaw200 firms had women partners: in San Francisco, 24%.
While the white paper noted that some "commentators" blame women for these low statistics because, they argue, "women elect to remove themselves from the highly demanding law firm environment in favor of raising children," the data in the white paper suggests otherwise. "NavForward's data suggests that environmental factors within the workplace may be the primary driver of female attrition, rather than environmental factors in the home or in society at large," the white paper stated. The white paper also found that a number of law firms with substantially above average diversity statistics provide "meaningful evidence to support the notion that it is possible for law firms to maintain a highly demanding work environment where women not only belong, but thrive, including at the partnership level."
The Law Firm Gender Diversity Index explained that it relied on raw data from 1,200 law firms rather than survey reports, providing it the ability to analyze gender diversity "among recently promoted attorneys by firm, by firm office, by title (partner, associate, counsel, etc.), and by practice area." A copy of the white paper can be found here.
CWL's In-House Counsel Network Kicks Off Signature Puzzle Program
CWL's In-House Counsel Network was proud to kick off its sold out Puzzle Program on June 16, 2016. This 3-part series gathers women in-house counsel from across industries and organizations to share experiences, suggestions, and best practices for professional advancement. The launch session at Google's San Francisco office was a huge success. A big "thank you!" to Cooley for being our exclusive sponsor of the first session. It was an inspirational and lively evening, and the program members are already looking forward to the next one in July!
"What Would Joan Do?"
Judge Holly Fujie Continues to Emulate Joan Dempsey Klein's Mission
By Alison N. Kleaver
Lawyers and judges from throughout Southern California gathered at the Los Angeles Athletic Club on June 10, 2016, to honor Judge Holly J. Fujie with the Joan Dempsey Klein Distinguished Jurist Award during California Women Lawyers' 23rd Annual Southern California Judicial Reception. Originally called the "Distinguished Jurist" Award, Joan Dempsey Klein, a Justice on the Second District Court of Appeal in California, was its first recipient in 1994 and, thereafter, the award has been given annually in her honor to a jurist who champions women's rights and is a pioneer in the struggle to achieve equal opportunity for women in the law.
As many people noted throughout the night, it is nearly impossible to list all of Judge Fujie's many achievements and accolades that earned her this award. Judge Fujie was appointed to the Los Angeles County Superior Court in December 2011. In 2013, Judge Fujie organized the Celebration of Diversity on the Bench under Governor Jerry Brown and, in 2015, she co-chaired the Court's Judicial Diversity Summit. Prior to her appointment to the court, she was an equity shareholder at Buchalter Nemer, specializing in complex litigation during which time she earned distinction as one of California's Top 100 Lawyers, one of the Top 50 Women Lawyers in Southern California, and, from 2004-2011, a Southern California Super Lawyer.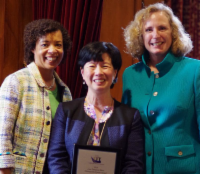 Judge Holly Fujie with CWL President Elect Chris Chambers Goodman (left) and CWL President Kelly Robbins (right)
In presenting the award, the Honorable Jacqueline Hong-Ngoc Nguyen of the U.S. Court of Appeals for the Ninth Circuit, Justice Audrey B. Collins of the Second District Court of Appeal for the State of California, and Kim Arnal, President of Women Lawyers Association of Los Angeles, each recounted personal stories of Judge Fujie's leadership, mentorship, and impact. Their stories evoked common themes of Judge Fujie as a woman, lawyer, and jurist who is as caring and committed to the lives and careers of others as she is to her own. For example, Judge Fujie was invited to meet a group of law students in the Bay Area for lunch. She was so engaged with the students that she missed her flight, stayed the entire afternoon, and then took them all to dinner so they could continue their
Following these introductory remarks, Judge Elizabeth Allen White of the Los Angeles County Superior Court presented Judge Fujie with flowers on behalf of the National Association of Women Judges. James Toma, the Mayor of West Covina, made a surprise appearance to congratulate Judge Fujie on her award and her incredible legacy of support for women and minorities in the profession. Mr. Toma, like so many others, counts Judge Fujie as his mentor and supporter. Joan Dempsey Klein herself then came to the podium to introduce Judge Fujie and present her with the award bearing her name.
After accepting her award, Judge Fujie spoke about the strides women have made in the legal community. Notably, she recounted the time during the confirmation hearings for California Supreme Court Justice Goodwin Liu that she appeared before a panel of "the three most powerful attorneys in the state of California," namely the Attorney General Kamala Harris, Justice Joan Dempsey Klein, and California Supreme Court Chief Justice Tani Cantil-Sakauye, each of whom was a woman.
Judge Fujie also discussed the tremendous legacy of Joan Dempsey Klein, including her unwavering support for, and mentorship of, women in the judicial profession. When facing difficult decisions throughout her career, such as whether to run for State Bar President, Judge Fujie often finds herself wondering what advice Justice Klein might give her. Not wanting to constantly bother Justice Klein with such questions, Judge Fujie has developed a novel approach: she channels Justice Klein in her own mind and asks herself "WWJD: What Would Joan Do?" Spoiler alert: the answer is "Go for it! Of course you can do it!" Judge Fujie then produced a bag of "WWJD?" bracelets that she bought especially for the occasion. Following the ceremony, she could be spotted gifting WWJD bracelets to everyone so that they, too, can channel Justice Klein's spirit in their own minds and be reminded that their potential is limitless.
MEET THE BOARD: SUZETTE TORRES
Co-Affiliate Contra Costa County Bar Association - Women's Section
Where and what do you practice?
I am VP/Underwriting Counsel for Fidelity National Title Group. We are the nation's largest title/escrow company. As a title insurance underwriter, some of my duties include evaluating title, rights, and interests in properties that are involved in a purchase transaction, construction loan, mortgage refinance, etc. In short, people look to me to review and and approve their deals so that title insurance can be issued.
Tell us about your membership in CWL and the Board.
Currently I am the Co-Affiliate Governor of Contra Costa County. I first heard about CWL through the Contra Costa County Bar Association - Women's Section, and was assigned the task to represent our Women's Section at the CWL board meetings. At that time, I had no idea what CWL was or what it did. I was clueless. But after that first meeting I knew that I wanted to be more involved. CWL is comprised of a group of inspiring, knowledgeable, and pro-active women. Being a member of CWL has opened my eyes to the various issues affecting women and our ability to give women a voice to be heard. CWL has been a wonderful resource for me and allows me to network with other women attorneys in different practices. It's nice to know that I can go to my CWL network, make referrals, and give others support when needed. When you are a member of CWL, there is no such thing as a "cold call". You can always ask for help. I enjoy attending the various events by CWL, including: In-House Counsel Network - Puzzle Series; So You Want to Be a Judge; Elect to Run; and CWL's Annual Conference. My only regret is that I did not know about CWL earlier.
What do you enjoy most about being on the CWL Board?
I enjoy the interaction with my fellow board members and the ability to make a difference in the world. For example, there have been times when CWL has been approached to join in on an amicus brief, give input on legislation, or make a press release/statement regarding current events. I enjoy our discussions on these types of issues because I get to hear the various perspectives of my fellow board members. We may not all agree on every item on our agenda, but I have highest respect for these women. When we share our opinions and experiences, we can make informed, educated decisions as a group. I really enjoy being a part of the In-House Counsel Network (IHCN) and seeing it develop and grow. I just attended the 1st part of the IHCN Puzzle Series and I was able to meet and talk to so many other in-house counsel in the Bay Area. It was fantastic!
Tell us something interesting and new about yourself.
About 2 years into the law practice, I was diagnosed with breast cancer (Stage III). At that time, I received so much push back about getting mammograms because I was "too young" to have breast cancer. I'm now in my 13th year of remission and living life to the fullest.
EDITOR'S NOTE: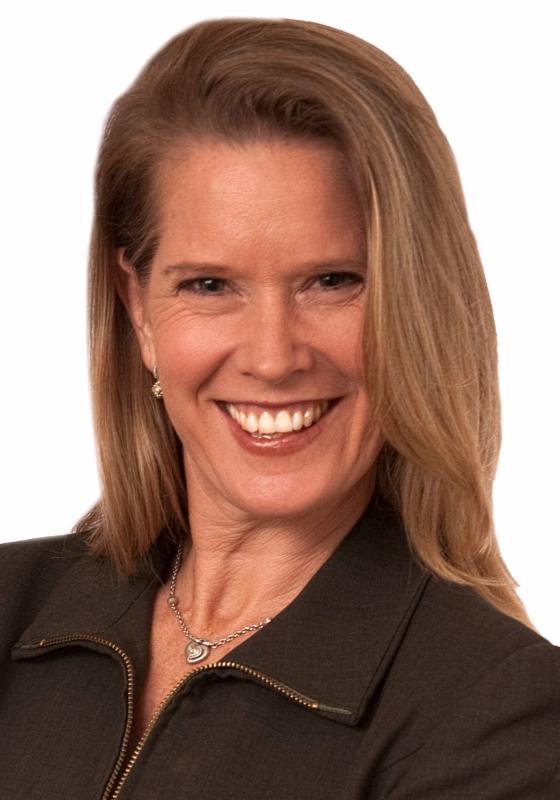 If you have any interesting stories, news, events, please e-mail me at [email protected] or call me at (323) 481-6664.
Share this post: