President's Message: Still Much to Talk About
Kelly Robbins, Robbins Family Law
The activity level within California Women Lawyers (CWL) is climbing to a peak, and the energy level across the State is extraordinary. In fact, we have so much going on this Spring that I'm not sure how I'll adapt to not being CWL's president at the end of my term. But our immediate past President Wendy Behan eased my worries, saying, with a smile, that she will talk me through the transition. I can't think about that now because there are more exciting things still for me to do.
After CWL hosted the Northern California Judicial Reception in Redwood City celebrating San Mateo County Superior Court Judge Elizabeth K. Lee when we presented her the CWL Rose Bird Award on April 8, I attended Lobby Day in Sacramento with our Legislative Chair Louinda Lacey on May 2 and 3 to advocate and support the CWL legislative agenda adopted by the Board at the end of last month, and the day long CWL Annual Conference in Concord brought together a dynamic set of panels and speakers on May 6, where CWL presented the Judith Soley Lawyer as Citizen Award to Pauline E. Weaver
The CWL signature program So You Want To Be A Judge™ had a banner turnout at the California Supreme Court building in San Francisco on May 20, thanks to our active partners at the National Association of Women Judges, and our own Judicial Committee. We are looking forward to the CWL Southern California Judicial Reception to present the Joan Dempsey Klein Distinguished Jurist Award to Los Angeles County Superior Court Judge Holly Fujie, at the Los Angeles Athletic Club on June 10 in Los Angeles.
On August 7, Nancy O'Malley, Alameda County District Attorney and CWL past president, will be one of the recipients of the American Bar Association (ABA) Margaret Brent Award in San Francisco and CWL will be there to acknowledge and celebrate the national recognition of her achievements.
CWL's Elect to Run program is being organized for September 9 in Los Angeles. And, finally, we will gather for the biggest event of our year: the CWL Annual Dinner kicking off the State Bar Conference in San Diego on September 29. CWL is thrilled that University of California President Janet Napolitano will speak at the Annual Dinner, at which the 2016-17 board will be sworn in under leadership of Chris Chambers Goodman, CWL's next president.
Whew!
Yet, at each of the CWL events so far this year, women attorneys still approach me and tell me that they are just now hearing about CWL (and how glad they are to have heard about us!). I, of course, welcome them and encourage them to consider volunteering on a committee to assist with CWL's mission or to help plan some upcoming events. This Spring season seemed to have an astonishing energetic momentum within it, which sets the tone for an exponential expansion of awareness of CWL and its mission. Then, we can have more conversations about key issues, including our legislative agenda which includes bills to aid sex trafficking victims, among others.
I know that we still have lots to talk about. To start, I encourage all of us to work toward ending income inequality. For example, New York Times columnist Paul Krugman's May 20 op-ed piece noted that, internationally, US has the highest income inequality while Denmark has the lowest. This is due, Krugman opines, to Denmark's high minimum wage and a labor movement representing two thirds of workers. Here in the United States, according to Krugman, President Obama's executive action limiting the current practice of some companies to exclude those labeled 'managers' from receiving overtime pay will help. Nobel Prize winner Paul Krugman describes the good macro-economic impact of this action, which he states will benefit an estimated 12.5 million workers, thereby reducing the extreme economic inequality in the United States.
Here, I opine that our California Fair Pay Act is a huge step to reduce the income inequality (at least in California) and that CWL can be a part of the movement to assist in lowering the income inequality by drawing attention to the Fair Pay Act requirements, and acknowledging companies who are affirmatively checking their compliance. Please stay tuned! Comments can be sent to [email protected]. Paul Krugman's article can be found here.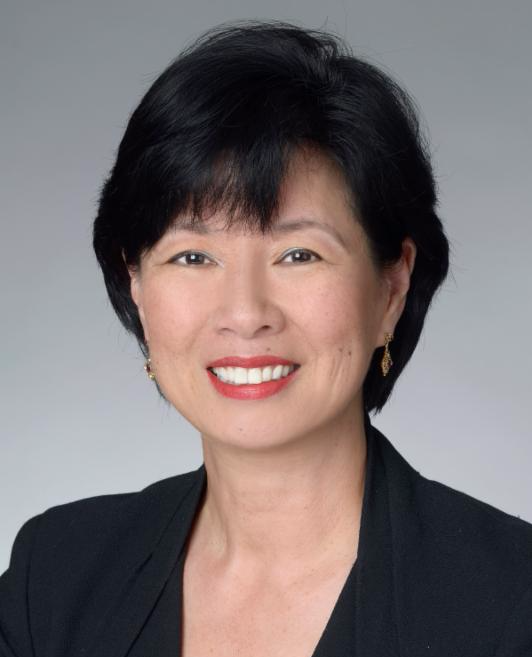 Los Angeles County Superior Court
Judge Holly Fujie
Judge Holly Fujie to Receive
Joan Dempsey Klein Distinguished Jurist Award
By Susan Formaker
Inspiring. Barrier-breaking. Brilliant. Committed. Tireless. These are just a few of the qualities Los Angeles County Superior Court Judge Holly Fujie has embodied throughout her career as a distinguished lawyer, judge, mentor, and leader in the community. For her excellence as a jurist and her longstanding vigorous service and inspiration to the women lawyers of California, Judge Fujie will be honored by California Women Lawyers (CWL) with the Joan Dempsey Klein Distinguished Jurist Award on June 10, 2016, at CWL's 23rd Annual Southern California Judicial Reception, to be held at the Los Angeles Athletic Club.
The Joan Dempsey Klein Distinguished Jurist Award was established in 1994 in honor of Justice Joan Dempsey Klein, a founder and provisional president of CWL, to recognize her pioneering work for women's rights and struggle to achieve equal opportunity for women in the law. Judge Fujie has carried the torch of equality through her innovative and indefatigable efforts on behalf of women and minorities in the law and through her extraordinary accomplishments.
Judge Fujie was appointed to the Los Angeles County Superior Court in December 2011. Before her appointment, she was an equity shareholder at Buchalter Nemer, specializing in complex litigation. Her expertise resulted in her being named as one of California's Top 100 Lawyers, one of the Top 50 Women Lawyers in Southern California, and, from 2004 to 2011, a Southern California Super Lawyer. Judge Fujie was the third woman and the first Asian American to serve as President of the State Bar of California from 2008 to 2009. As President, she focused on the advancement of women and minorities in the legal profession. Among other efforts, she created a program called "You Can Do It! Successful Women Lawyers Discuss Combining Families and Careers," which was presented at 16 law schools across the state and in partnership with numerous co-sponsoring organizations (including CWL). As a mother of two children and leader in the legal arena, Judge Fujie understood that showing women law students how they could combine a career in the law and a family remained a critical issue for the profession. Judge Fujie similarly worked to engage law students in the profession when she persuaded many bar organizations to offer free or significantly discounted memberships to students, and she paid for discounted memberships herself when she was State Bar President.
Since 1992, Judge Fujie has served on Senator Dianne Feinstein's Judicial Advisory Committee, and she was its Chair from 2008 until her elevation to the bench. In that role, she has advised the Senator and the White House on federal judicial nominations and on the nomination of U.S. Attorneys for the Central District of California. Through her work on this committee, Judge Fujie has been an effective voice in advancing diversity on the federal bench.
Judge Fujie's list of accomplishments and leadership positions does not stop there. Since being appointed to the Superior Court, Judge Fujie has served as a member of the California Judicial Council's Family Law Curriculum Committee and its Commission on the Future of California's Courts and as Vice Chair of the California Supreme Court's Board of Trustees Appointment Nominations Committee. Judge Fujie has also served on the California State Bar's Council on Access and Fairness and on the Los Angeles Superior Court's Diversity and Community Outreach Committees, as well as the Superior Court Family Law Division's Operational Committee. She co-chaired the Court's Judicial Diversity Summit, held in 2015 to encourage and assist diverse candidates for the judiciary, and she organized the 2013 Celebration of Diversity on the Bench Under Governor Jerry Brown.
Judge Fujie served as President of the Boalt Hall Alumni Association and of the influential Los Angeles Chancery Club, Vice President of the California Bar Foundation, and Chair of the Board of Bet Tzedek Legal Services. She has been a member of the Board of Governors of the Women Lawyers Association of Los Angeles (WLALA) since the early 1990s, and she is a longstanding member of the Advisory Boards of the Asian Pacific American Bar Association of Los Angeles and the Women of Color Coalition of Boalt Hall. She is a Senior Advisor to the Multicultural Bar Alliance of Southern California. Judge Fujie has previously served on a number of other boards, including those of CWL and of the Federal Bar Association, and on many local, court and state bar committees and commissions. Judge Fujie has also authored chapters in a number of legal publications and spoken frequently on topics related to diversity and bias in the legal profession. She has received numerous awards for her work in diversity and bar and bench leadership.
In the materials submitted by WLALA to nominate Judge Fujie for the award, her legendary mentoring activities were consistently mentioned. Through her dedication, enthusiasm, generosity, and boundless energy, Judge Fujie helps others to reach goals they never thought possible. Several of the letters submitted on Judge Fujie's behalf in support of her nomination emphasized that no one is more qualified for the Joan Dempsey Klein Distinguished Jurist Award than Judge Fujie. CWL could not agree more and is honored to name Judge Fujie as its 2016 Joan Dempsey Klein Distinguished Jurist Award recipient.
Please join CWL in celebrating Judge Fujie's accomplishments at CWL's 23rd Annual Southern California Judicial Reception from 5:00 to 7:00 p.m. on June 10, 2016, at the Los Angeles Athletic Club. You can register for the event at http://www.cwl.org/events/23rd-Annual-Southern-California-Judicial-Reception-106/details.
From Abolishing Tax on Tampons to Increasing Punishment for Those Who Buy Sex:
CWL Votes to Support Diverse Legislation in 2016
by Amelia Burroughs
On April 29, 2016, the California Women Lawyers' Board of Governors voted on the bills it supports for its 2016 legislative agenda. This year, California Women Lawyers (CWL) approved five specific bills, with the understanding that CWL supports the policies behind the bills and will continue to work with sponsoring legislators to improve the bills as currently drafted. The proposed legislation includes the following:
Assembly Bill 1561 - Introduced by Assembly Members Cristina Garcia and Ling Ling Chang relating to the Tampon Tax. The bill would establish a sales and use tax exemption for certain feminine hygiene products such as tampons and sanitary napkins. California currently taxes tampons and sanitary pads, which are necessary health items for many women. Without the exemption, the Tampon Tax disproportionately impacts low-income women who must purchase such products.
Assembly Bill 1708 - Introduced by Assembly Member Lorena S. Gonzalez and relating to commercial sex trafficking. Assembly Member Gonzalez's bill enhances punishment for those convicted of a human trafficking offense or a specified sex trafficking offense when any part of the violation takes place upon the grounds of, or within 1,000 feet of, a public or private elementary, vocational, junior high, or high school when minors use the facilities. In part, the bill imposes mandatory minimum jail sentences on individuals convicted of buying or attempting to buy commercial sex under those circumstances
Senate Bill 823 - Introduced by Senator Marty Block and relating to human trafficking. Senator Block's bill would permit a juvenile who is arrested, adjudicated, or convicted of a non-violent offense while a victim of human trafficking to petition the court for dismissal of the conviction or sealing of the record upon a showing that the arrest, conviction, or adjudication was the direct result of or in clear connection with the human trafficking scheme of which he/she was a victim.
Assembly Bill 1778 - Introduced by Assembly Member Bill Quirk and relating to post-secondary training. Assembly Member Quirk's bill requires state universities, colleges and other post-secondary institutions to provide annual training to staff regarding the investigation and reporting of sexual assault, domestic violence, dating violence, and stalking involving students.
Assembly Bill 1761 - Introduced by Assembly Member Shirley N. Weber and relating to an affirmative defense for human trafficking. Assembly Member Weber's bill permits defendants to establish, by a preponderance of the evidence, that the crime for which they are convicted was the direct result of being a victim of human trafficking, and requires courts to dismiss the conviction and seal the record as a result.
CWL Annual Conference: Hard Work, Relationships Can Pay Career Dividends
By Bentrish Satarzadeh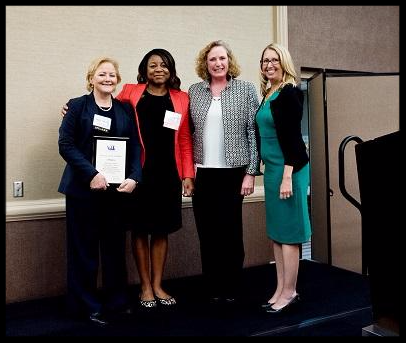 Left to Right: District Attorney Nancy O'Malley; CWL Conference Chair, Toni
Mims-Cochran; CWL President, Kelly Robbins and CWL Foundation President, Wendy Behan
"When you are not at the table, you're on the menu," said Alameda County District Attorney Nancy O'Malley at California Women Lawyer's Annual Conference on May 6, 2016. As the keynote luncheon speaker, O'Malley encouraged everyone to be an advocate for change. Hard work, she noted, is a key part of advocating for change because despite a person's prejudice or bias toward you that person cannot object to or undue your hard work. And O'Malley should know. Her hard work to fight against human trafficking and to ensure rape kits are actually processed are a few reasons why she was chosen as a 2016 recipient of the American Bar Association's prestigious Margaret Brent Award.
Insight like O'Malley's echoed throughout CWL's Annual Conference: "Equality, Opportunity & Advocacy: The Empowerment Summit" held in Concord, Contra Costa County. Inspirational speakers and top women lawyers in California discussed key issues this year such as personal branding, using grit and growth mindset to advance women lawyers, what in-house counsel want from outside counsel, and practical implications arising from California's Amended Fair Pay Act.
For example, the morning speaker Tamara Steele focused on empowerment: presenting advice on how to take charge of your career in a S.M.A.R.T. way. The "S" stands for setting a Specific goal. The "M" is to ensure that goal is Measurable. The "A" requires you to adopt and keep the right Attitude. The "R" reminds you to be Realistic about your goals. And, lastly, the "T" is to ensure that you have enough Time and energy to invest in that goal. Ms. Steele is a professional life coach, focusing on making major life transitions as smooth as possible for her clients. One key to empowerment is telling someone else why you are special, which the audience was asked to do in pairs. Though an uncomfortable exercise, it engaged and helped empower attendees.
Other conference panels also covered career options such as the climb up the firm ladder, attaining leadership roles, and the relationship between lawyers. Building strong and lasting relationships often pays career dividends. CWL's Annual Conference was proof of this career reality. At the end of O'Malley's keynote luncheon speech, CWL President Kelly Robbins along with CWL Foundation President Wendy Behan presented Nancy O'Malley with a $5,000 scholarship that would be presented in O'Malley's name to a worthy female law student that most embodied the district attorney's traits and unfettered determination. This scholarship will serve as ongoing recognition of O'Malley's hard work in building career relationships, especially among women, as she advocates for change.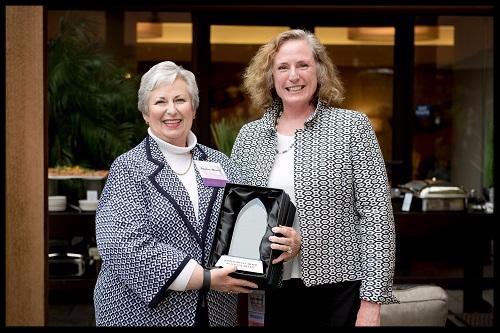 Pauline Weaver, Judith Soley as Citizen Award Winner, (left) and CWL President Kelly Robbins
And the key relationships that Pauline Weaver built, decade after decade, via her dedication to addressing a wide range of civic duties resulted in her being honored with the Judith Soley Lawyer as Citizen Award at the end of the CWL conference. A former CWL president in 1988, Weaver has been involved in key civic committees addressing issues such as death penalty representation, reducing homelessness and poverty, and improving education. Weaver has served as an American Bar Association Observer to the Military Commission Hearings in Guantanamo, Cuba, and as a Board Governor for the State Bar of California. She has participated in the Emerging Leaders Program, Racial Equality Leadership Retreat for the City of Fremont.
The Judith Soley Lawyer as Citizen Award is recognition of Pauline Weaver's extensive and expansive civic involvement and service in the state of California. Congratulations Pauline! And congratulations to CWL, its sponsors, speakers and committee members for making the 2016 Annual Conference not only possible but also a success.
One Small Step for a Man, One Giant Leap for CWL
By Andrea Ventura
He was the only man in a room. All day long. He sat in conference room after conference room filled with 20 to 100 women to learn about the sexism facing women lawyers today, such as when a judge asked a woman lawyer if she was on her "period" because of her aggressive advocacy in the courtroom or when an opposing counsel accused a woman lawyer of sleeping with her client to advance the case.
Martin Quiñonez kept quiet for the most part, listening throughout the "Your Perceived Identity: How It Affects Your Advocacy" panel at the California Women Lawyer's annual conference on May 6, 2016. He did not want to take up too much space. He did not want his presence to repress the open communication that women have built for themselves via organizations like California Women Lawyers (CWL). That made sense. But, after the women shared their burden of deciding how to confront sexism while advocating for a client, Martin finally raised his hand. "It's a burden that men need to share," he said. "The most important thing I can do is take the lead from the women in my life and allow them to tell me how I can be most helpful and take the burden off their shoulders.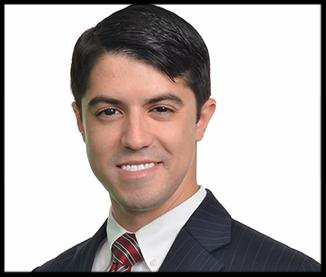 Cool. Martin was voluntarily taking on the duty of fighting sexism, including the difficult role of challenging the institutional norms for men as a man. As the only man in the room throughout the entire CWL conference, I knew that Martin was an Agent of Change, the term Nancy O'Malley, District Attorney of Alameda County, described for people taking initiative to right institutional wrongs. So I spoke with Martin, an attorney for Tycko & Zavareei, afterwards to find out why he chose to come to CWL's annual conference.
Prompted by his supervisors and mentors, most of whom are women, including Tycko & Zavareei partner and former CWL Board of Governors Director Kristen Law Sagafi, Martin came to the CWL conference as "the next step" for him "to take on the role of really being an ally."
Martin admitted that, like most professional men, he has the privilege to be blind to sexism. "I don't notice the micro-aggressions that women lawyers experience," he said. "It took a lot of education for me to become aware enough to see them."
Attending CWL's conference panels such as "How Implicit Bias Shapes the Legal Landscape" helped him not only to understand but also to speak out against the institutional layers of sexism. "It's not just about having the right ideas but really speaking up to tangibly help the people that are subject to these mirco-aggressions," he said.
Granted, Martin was already on his way toward fighting sexism long ago. Raised by a mother with a bumper-sticker stating "Feminism is the Radical Notion that Women are People," in 2015 Martin helped win an employment battle for a transgender federal employee who had been denied access to public women's restrooms at her office, based on Title VII of the 1964 Civil Rights Act. The case served as a legal basis for the United States Department of Justice's recent challenge to North Carolina's law prohibiting transgender people from using the restroom consistent with their gender identity.
Despite this win, Martin knows the battle for gender equality and against sexism continues. And, clearly, Martin has joined this battle. Sexism is not just a theoretical issue, he said; it is something woman face every day on many different levels. Now, even in every-day conversations, Martin is taking the challenge to be aware and vigilant in fighting bias, even if it makes him—and the men around him—uncomfortable. "Part of it is just about making it a little more uncomfortable for men to be sexist," he said, quoting his partner, Olga Tomchin. Olga is herself an immigration and human rights attorney at the National Day Laborer Organizing Network, who holds intersectional feminism as a core value in all the work she does. Martin said her refusal to accept sexism in any aspect of her life has been the biggest catalyst moving him towards being an ally not just in beliefs, but in practice.
Thanks Martin for taking this next step. When a man takes on this burden, not only does it make it just a tad bit easier for women in general but also furthers CWL's mission to advance women in the profession of law and to eliminate all inequities based on sex.
CWL's Signature Program Provides Crucial Insight to Judicial Appointment Process
by Audrey Hadlock
On May 20, 2016, California Women Lawyers and the National Association of Women Judges presented CWL's award-winning program So You Want To Be A Judge (SYWTBAJ). This popular program is designed to offer insights and advice about the judicial appointment process in California and to help increase the number of women and diverse candidates who seek and obtain appointment to the bench. SYWTBAJ began in 1985 when it was hosted by Judge Marie B. Collins in her own home. CWL now offers the program regularly as one of its signature events. In 2009, SYWTBAJ was honored by the National Conference of Women's Bar Associations as an outstanding member program.
Hosted by Judge Elizabeth Lee of San Mateo County Superior Court this year, the half-day program was well attended. Kelly Robbins, the CWL President, and Judge Anita Santos of Contra Costa County Superior Court, a District Director in the National Association of Women Judges, welcomed attendees on behalf of their respective organizations.
The program led off with a hard-hitting panel featuring Governor Brown's Senior Advisor on judicial appointments, Josh Groban. Groban shared his invaluable insights into the Governor's appointment process, what the Governor is looking for in a successful judicial candidate, an overview of how the process works, and what to expect as a candidate. David Fu, the Vice Chair of the State Bar Judicial Nominees Evaluation (JNE) Commission, also joined the panel and shared his thoughts on the JNE evaluation process. The panel, moderated by former JNE Chair Lara Krieger, also included Justice Therese Stewart of the First District Court of Appeal, Judge Danielle Douglas of Contra Costa County Superior Court, Judge Roberta Hayashi of the Santa Clara County Superior Court and Judge Andrew Steckler of the Alameda County Superior Court. All of the panelists offered their personal insights into the application and appointment process, as well as invaluable advice.
Following the main panel, the program featured five separate break-out sessions organized by practice type, allowing attendees an opportunity to ask questions in an intimate setting, over lunch, with several judges who share their practice background, and to address questions and concerns specific to different types of practice. The break-out groups included sessions for attendees from criminal practice, other government practice, small to medium private firms, large private firms, and nontraditional backgrounds (including academic, in-house, and non-profit practice). The break-out panels included Judges Jeffrey Brand and Ioana Petrou of Alameda County Superior Court, Judge Barry Baskin of Contra Costa County Superior Court, Judge Stephen Freccero of Marin County Superior Court, Judges Tracie Brown and Charles Crompton of San Francisco County Superior Court, and Judges Eric Geffon, Sunil Kulkarni, Beth McGowen and Helen Williams of Santa Clara County Superior Court, in addition to speakers from the first panel.
Finally, the program closed with a lively and entertaining mock JNE interview, conducted by Lara Krieger and Judge Anita Santos. Judge Santos and Ms. Krieger demonstrated the right—and the very wrong—way to respond to potential criticisms that candidates may face during the JNE process.
APAWLA'S ANNUAL DINNER RECOGNIZES
PUBLIC SERVICE AWARD RECIPIENTS
By Chris Chambers Goodman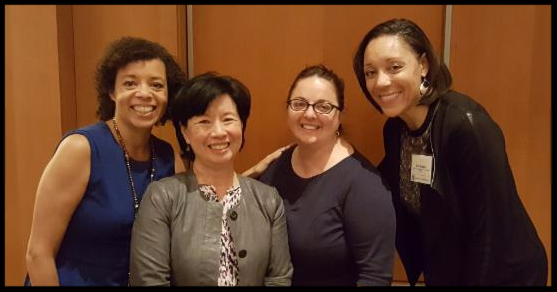 Chris Chambers Goodman, CWL President-Elect, Hon. Holly Fujie, L.A. County Superior Court, Kim Arnal, WLALA President, and Nicole Husband, BWL President.
The Asian Pacific American Women Lawyers Alliance (APAWLA) held its Annual Installation and Awards Dinner on Friday, May 13, 2016, at the Los Angeles Music Center. The event began before sunset, providing the attendees with a lovely view of the downtown skyline. A conversation with California Supreme Court Justice Goodwin Liu started the program, and he entertained the audience with his stories about life and the law.
Commendations were presented to the two Public Service Award recipients: Los Angeles Superior Court Judge Fumiko Hachiya Wasserman, and California Labor Commissioner Julie A. Su. Past President Mia Frances Yamamoto recognized their accomplishments. Commissioner Su earned her designation as a MacArthur Foundation "Genius" for her distinguished work as a civil rights lawyer, advancing justice through community outreach, education, and organizing, as well as impact litigation and coalition building. Judge Wasserman also is a past recipient of the CWL Joan Dempsey Klein Distinguished Jurist Award.
And Judge Holly Fujie, this year's recipient of the Joan Dempsey Klein Distinguished Jurist Award, administered an updated oath to this year's officers: President Luci-Ellen Chun, President-Elect Kathy Khommarath, Vice President Esther K. Ro (Membership), Vice President Diane M.L. Tan (Historian), Treasurer Ayano Wolff, and Secretary Beti Tsai Bergman.
MEET THE BOARD: Bentrish Satarzadeh, Affiliate of Women Lawyers of Alameda County
Where and what do you practice?
I am a Trial Judicial Attorney within the Office of General Counsel for Alameda County Superior Court where I advise judicial officers on law and motion as well as trial-related matters. I am a general practitioner in that I am responsible for mastering a vast array of cases in a variety of fields including property law, labor law, employment, civil rights, contracts, collections, eminent domain, personal injury, landlord/tenant, probate, securities fraud, banking law, environmental law and toxic torts in a way where I can draft orders and recommend rulings with absolute certainty. I also currently sit on the board of the Center for Judicial Education and Research with the Judicial Council of California where I put together educational curriculum for judges and teach courses. Lastly, I am a temporary judge and preside over 100 small claims court trials on a monthly basis.
Tell us about your membership in CWL and the Board.
I sit on the board of Women Lawyers of Alameda County (WLAC) and serve as WLAC's affiliate governor on the California Women Lawyers' board. I serve on the Amicus Curiae Committee as well as the Legislative Committee. Both are tremendous committees that have helped shape the future for women and serve as legacy reminders of how far we have come and how far we still need to go. I am humbled by the opportunity to be able to be part of the influence that CWL has over women's issues today.
What do you enjoy most about being on the CWL Board?
I love CWL because it makes me feel inspired and empowered. It provides a foundation for strong articulate women to join together, make friends, develop business, become better lawyers, and work together to lift up women. I believe that the biggest obstacle women face is the lack of opportunity and CWL, through its dynamic programs and events, creates opportunities for women to get their foot in the door and to be heard.
Tell us something interesting and new about yourself.
I am getting married to the love of my life, Maggie Marano, this Fall. She and I will be married in San Francisco, California. We are both looking forward to celebrating our big day with close family and friends.
EDITOR'S NOTE: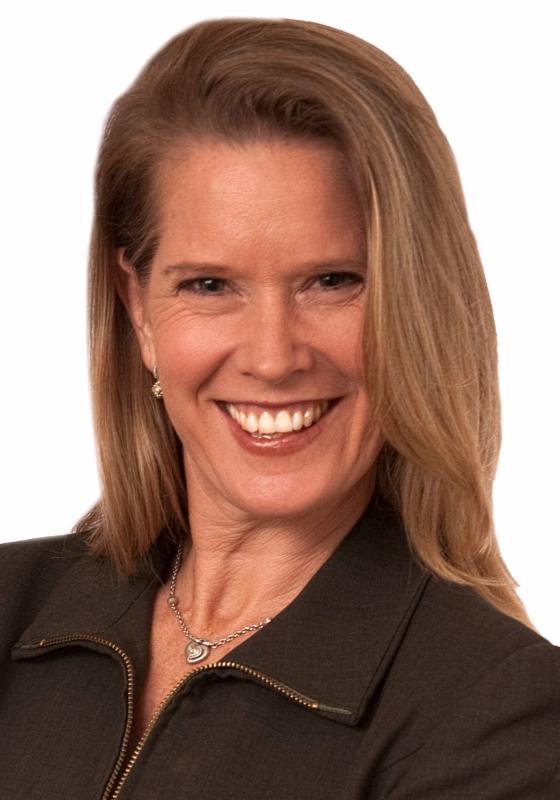 In my February 2016 Editor's Note, I emphasized how we need to recognize men who have embraced the fight against sexism and towards gender equality as agents of change, a move promoted by the National Conference of Women's Bar Association. See http://ncwba.org/programs/good-guys-toolkit
In that note, I recognized former President Jimmy Carter's substantial efforts in fighting sexism, including his 2015 book called A Call to Action: Women, Religion, Violence and Power, which explains that the most serious, pervasive and ignored violation of basic human rights is the ongoing discrimination and violence against women and girls. But a man does not have to write a book to be recognized for his efforts to fight sexism. The battle can be fought on more nuanced levels. For example, as discussed above in my article above entitled One Small Step for a Man, One Giant Leap for CWL, I recognize Martin Quiñones, a Tycko & Zavareei attorney, who was the only man participating in CWL's annual conference this month. He emphasized the need to become aware of the micro-aggressions against women in general and women lawyers in particular. Please see the article above for more details and feel free to e-mail me at [email protected] or call me at (323) 481-6664 with any similar story ideas, information, or any news that CWL and its affiliates should share.
Share this post: