President's Message: Women in Executive Roles Result in Higher Profits for Companies
The headline of a recent New York Times article from February 9, 2016, which appeared in the San Francisco Chronicle, read, "Women in Executive Roles Tied to Stronger Profits, Study Says." The article explains that companies whose top management positions consisted of 30 percent women were 15 percent more profitable, according to a study released last week by the Peterson Institute for International Economics, a nonprofit group in Washington D.C. and EY, the audit firm formerly known as Ernst & Young.
Kelly Robbins, Robbins Family Law
As reported by the New York Times (and SF Chronicle), the study did not find evidence that quotas for women on boards, as required in Norway, Denmark and Finland, impacted the bottom line, but instead noted that countries need to focus more on the management 'pipeline' for women starting in early childhood. Countries with school-age girls who score high on math tests were more likely to have women in management positions, reported Marcus Noland, the institute's director of studies. This study found that gender diversity is still sorely lacking, as almost 60 percent of the nearly 22,000 companies reviewed had no female board members and more than half had no female executives.
The study also found that gender diversity is profitable. Specifically, companies with 30 percent women in top management were 15 percent more profitable than companies with zero females in top management. While I am certain that the study offset and managed the myriad variables, in my cynical moment, I have to wonder if some of the profitability is related to the fact that women in higher management roles continue to be paid less than their male counterparts?
Although the article does not discuss the issue of gender based wage gap, which has been the topic of many of our discussions, it does suggest new ways in which CWL can promote gender equality in the workforce. The data cited in the article indicates that policy reform should look beyond simply demanding equal pay for equal work, and, rather, seek systemic reform, such as mandating paternity leave to relieve some of the burdens placed on working women after having a child and promoting educational opportunities for school-age girls so that they will be prepared to fill management positions as adults. To read the article discussed above, follow this link: http://www.nytimes.com/2016/02/10/business/women-in-company-leadership-tied-to-stronger-profits.html?_r=0
hanks to Magistrate Judge Grewal we can continue to celebrate, and hope that soon we will look back and only see these sorts of discriminatory acts as history, where they belong.
Please Join us for CWL's
16th Annual Northern California Judicial Reception and Presentation of the Rose Bird Memorial Award to




The Honorable Elizabeth Lee

San Mateo County Superior Court

Friday, April 8, 2016
5:00 pm to 7:30 pm
Location: San Mateo County History Museum
2200 Broadway
Redwood City, CA

CWL is extremely proud to honor San Mateo County Superior Court Judge Elizabeth Lee with the Rose Bird Memorial Award. Judge Lee exemplifies the qualities of compassion and courage in a field that is, still, largely dominated by men. She has worked with purpose to improve the legal process and profession, and has become not only a role model to female attorneys and judges, but also an asset to the community due to her outstanding service.

California Women Lawyers instituted the Rose Bird Memorial Award in 2000 in honor of Chief Justice Rose Elizabeth Bird (1936-1999). Chief Justice Bird was a trailblazer. She was the first woman deputy public defender in Santa Clara County, the first woman to hold a cabinet-level position in California, and the first female Chief Justice of the California Supreme Court. She was a founding mother of California Women Lawyers. The award honors judges for judicial excellence, public service and inspiration to women lawyers.

Please join us as we celebrate Judge Lee. Wine and appetizers will be served. Download registration form here or register online.

If you would like to sponsor this event, please download the sponsorship form here or register for sponsorship online here.
CWL's Elect to Run Receives National Award
Reinforcing Need to Encourage Women to Run for Office
By Renee Galente
The National Conference of Women Bar Associations (NCWBA) chose California Women Lawyer's Elect to Run program as its 2016 Outstanding Member Program this month, according to the NCWBA Awards Committee. To recognize innovative programs every year, the NCWBA gives this Outstanding Member Program award to one bar association across the country in an effort to inspire other women's bar associations to emulate the program and initiate similar programs in their own regions.
California Women Lawyers' signature Elect to Run program was created in 2014 in response to the abysmal statistics on women running for office in California. In 2014, women in California made up 28% of the State Legislature, 25% of all county board supervisors and 28% of all city council seats.* These numbers drop dramatically for women of color, with 14% of all female city officials identifying as Latina, 3% as Asian/Pacific Islander and 3% as African American.*
To help remedy this disparity, the Elect to Run program was designed to educate and encourage women to run for public office, and to allow women to meet other women who have run for office, as well as those who support and train women to run for office. The program provides information to assist women in deciding whether they want to run and how to do so if they so choose.
First held in Los Angeles in 2014, the Elect to Run program was also offered in Oakland in 2015, with each location offering both local and state elected officials, candidates and support groups. For example, last year's program agenda and speakers can be found at California Women Lawyer's (CWL) website with live tweets from the program on CWL's twitter feed @CWL_tweets by searching #ElectToRun15. In 2016, CWL will offer the Elect to Run program in Southern California.
On August 5, 2016, this year's NCWBA award for the Elect to Run program will be presented to CWL in San Francisco at the 2016 Women's Bar Leadership Summit: Advancing Change through Innovative Collaboration. More information about how to attend this conference is available at: http://ncwba.org/programs/womens-bar-leadership-summit/2016-summit/
This is the second time that CWL has been honored with the NCWBA award. In 2009, CWL received the award for its So You Want to Be a Judge program, which seeks to help women become judges. This year, So You Want to Be a Judge will feature Josh Groban, Senior Advisor to Governor Jerry Brown on Judicial Appointments, and will be held on Friday May 20, 2016, at Milton Marks Conference Center, 455 Golden Gate Avenue, San Francisco.
*The Leadership California Institute, Women 2014: An Examination of the Status of Women in California State and Local Government.
Women's History Month:
From a School Celebration to a National Law Celebrate March with CWL in L.A.!

Recognizing women's history in the United States is like many of women's battles, it started small but ended big. According to Wikipedia, in 1978, a school district in California celebrated a week of women's history in honor of International Women's Day, March 8. Based on the success of this event, other school districts, colleges, communities and organizations across the country held their own celebrations and, ultimately, joined together to support an effort to secure a nationwide Women's History week. See https://en.wikipedia.org/wiki/Women%27s_History_Month#. Two years later, President Jimmy Carter was the first to declare the week of March 8 as National Women's Week. And, in 1987, Congress passed a law as proposed by the National Women's History Project declaring March as Women's History Month.

In honor of this fight for recognition Women's History Month, California Women Lawyers joins the Asian Pacific American Women Lawyers Alliance, Black Women Lawyers Association of Los Angeles, Latino Lawyers Bar Association, and Women Lawyers Association of Los Angeles to celebrate at Drago Centro in Los Angeles, California, on March 31, 2016, from 6 p.m. to 8 p.m. The event will feature Antonia Hernández, president and chief executive officer of the California Community Foundation.

Previously president of the Mexican American Legal Defense and Education Fund (MALDEF), Hernández's career spans four decades of social justice and a lifelong devotion to the underserved communities of Los Angeles County.

For more details on this event, please see: http://www.wlala.org/events/EventDetails.aspx?id=776512&group=

If you would like to sponsor this event, please download the sponsorship form here or register for sponsorship online here.
Meet Your CWL Board Member:
Danielle De Smeth, District 6 Governor
Where and what do you practice?
I am the managing attorney at Bamieh & Erickson, PLC. We have a trial practice that is primarily criminal defense and plaintiff's civil work. The bulk of our cases are in Ventura and Santa Barbara Counties. I helped open the firm's satellite Santa Barbara office in 2014.
Tell us about your membership in CWL and the Board.
Before I was elected District 6 Governor of CWL, I served as Santa Barbara Women Lawyer's representative to the CWL board. While serving as an affiliate representative, I enjoyed the diversity and dedication of the CWL board, and jumped at the opportunity to represent District 6. I have also been impressed with CWL's programs. For example, I attended CWL's first Elect to Run program in 2014 and was inspired to run for office by listening to Assembly Speaker Toni Atkins and Sheila Kuehl - who was running for and won a seat on the Los Angeles County Board of Supervisors - discuss why we need more women serving in elected office. The program prompted me to apply for the Emerge California program to learn the nuts and bolts of how to run a political campaign. I completed that program in 2015 and am not only better in tune with my community, but also better connected throughout the state. I am organizing CWL's third annual Elect to Run program this year so watch for information in our upcoming newsletters.
What do you enjoy most about being on the CWL Board?
Most of us serve on many boards and are engaged in multiple levels of service. What sets this board apart is its geographic diversity, breadth of talent and comraderie. We routinely share value, from client referrals to case resources.
Tell us something interesting and new about yourself.
After the oil spill in Santa Barbara last year, I looked into getting an electric car. In early December, I bought a Chevy Volt so that I could cut gas to travel between our Santa Barbara and Ventura offices and courthouses. The Volt gets around 46 miles on a full electric charge and after that, the gas kicks in. Two and a half months later, I love the car and still haven't used a full tank of gas!
Women at the Forefront: NAWL's March 11-12 Conference

In March, California Women Lawyers (CWL) joins with the National Association of Women Lawyers (NAWL) to present NAWL's Mid-Year Meeting & Awards Luncheon with a mix of professional development and substantive sessions, as well as plenty of networking time. Workshop discussions range from addressing Challenges for In-House Counsel in Working with Start-Ups Through the IPO to the New Generation Glass Ceiling Issues.

One particular workshop, Beyond the School Yard: Workplace Harassment and Bullying -- The Problems that Won't Go Away, will be moderated by CWL Board Member Kate McGuinness, a principal of Empowered Women Coaching. This workshop will discuss sexual harassment and work place bullying with practical and legal solutions on how to stop and address such concerns, featuring a first-person account from a sexual harassment victim turned advocate. This account will focus on understanding options and opportunities to make change and provide a discussion on the need to prevent the many manifestations of harassment and bullying.

To be held on March 11-12, 2016 at the JW Marriott San Francisco Union Square, more details and registration are available at http://www.nawl.org/p/cm/ld/&fid=444. CWL members will receive a 10% discount! To register, please go to www.nawl.org/2016midyear. CWL members will receive a code to enter at registration, for the discount.
CWL Member Appointed Monterey County Superior Court Commissioner!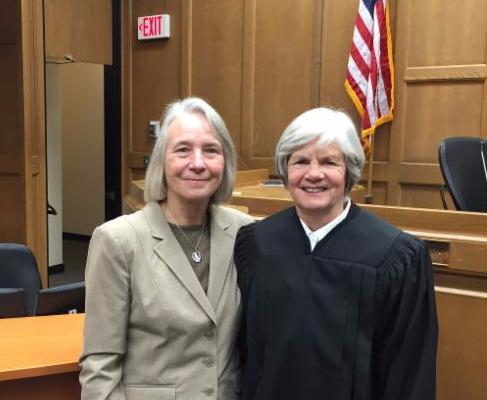 Commissioner Katherine Stoner with Michelle Welsh, one of Stoner's partners at Stoner, Welsh & Schmidt.
CWL member Katherine Stoner was appointed a Monterey County Superior Court Commissioner this year, starting January 1, 2016. A founding member of Monterey County Women Lawyers Association since 1979, Katherine Stoner was a partner of Stoner, Welsh, & Schmidt, the first all-women law firm in Monterey County! As a partner, Stoner focused on mediation, alternative dispute resolution and family law. In addition, in December 2014, Katherine Stoner received the Association's "Lady Justice" Award. Congratulations Katherine!
CWL 2016 Annual Conference
Register Now!
"Equality, Opportunity, and Advocacy: The Empowerment Summit"
Friday, May 6, 2016
Conference 8:30 AM - 5:00 PM
Reception 5:30 PM - 7:30 PM

Hilton Concord
1970 Diamond Blvd.
Concord, CA 94520

This all day event features:
A morning networking opportunity
MCLE presentations throughout the day
Immediately followed by a cocktail reception honoring Pauline A. Weaver with the Judith Soley Lawyer as Citizen Award
Just a few of our panels will include:
Pathways to Partnership
Closing the Gender Wage Gap
The GRIT Project: Using Grit and Growth Mindset to Advance Women Lawyers
Sponsorship and Exhibitor Opportunities Available
OCWLA Hosts Annual Mardi Gras Event
On Fat Tuesday, the Orange County Women Lawyers Association held its annual Mardi Gras celebration, a traditional social event allowing members to network and socialize. Each guest was adorned with Mardi Gras beads upon their arrival and the group of over 70 guests enjoyed the celebration on the outdoor patio featuring beautiful Southern California weather. The event was held at Bosscat Kitchen and Libations and the menu featured modern twists on favorite dishes including favorites such as short ribs, vegetable grilled cheese sandwiches, and red velvet churros.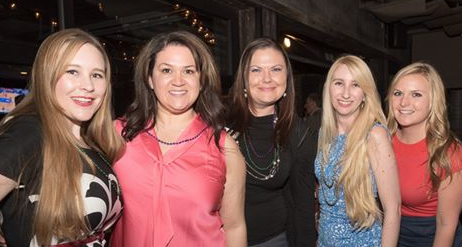 OCWLA members enjoy the annual Mardi Gras celebration.
Photos courtesy of Stan Sholik Photography
On March 1, 2016, OCWLA will be hosting its first Book Club. Participants will read Jennifer Weiner's Who Do You Love and engage in a discussion over a casual dinner. The Book Club was created in response to members wanting more opportunities to network with each other in casual social settings. Registration for this member-exclusive event can be found here: http://ocwla.org/event-2166104
MUTLI-CULTURAL UNITY BREAKFAST

On January 23, 2016, the Multi Cultural Bar Alliance Unity Breakfast had a great turnout of member bars and supporters in Chinatown, Los Angeles. Black Women Lawyers Association of Los Angeles made a strong showing at this special event with President Nicole Husband, President Elect Amber Finch, and Past Presidents Shirley Henderson and Tami Warren.
UPCOMING EVENTS FOR WLALA!
February 6 to June 4, 2016
WLALA Winter/Spring Golf League. The Lakes at El Segundo, 400 S. Sepulveda Blvd., El Segundo, CA 90245. To register, please go to www.wlala.org.
March 9, 2016
- WLALA, A Night at the Magic Castle. The Magic Castle, 7001 Franklin Avenue, Hollywood, CA 90028. 6:00 p.m. To RSVP, please go to www.wlala.org
March 24, 2016
- Elder Panel, Save the Date!
March 31, 2016
-- Celebrate Women's History Month at Drago Center, Los Angeles. See http://www.wlala.org/events/EventDetails.aspx?id=776512&group=
June 9, 2016
- WLALApalooza Fundraising Festivities, Save the Date! LA Hotel, Downtown Los Angeles.
SAVE THE DATE: MAY 20, 2016

California Women Lawyers'
SO YOU WANT TO BE A JUDGE?

Insights and Advice on the Judicial Appointments Process

Milton Marks Conference Center 455 Golden Gate Ave.
San Francisco, CA

Featuring: Josh Groban, Governor Brown's Senior Advisor for Judicial Appointments
EDITOR'S NOTE: Recognizing Men as Agents of Change
I will start with Jimmy Carter. He is the next man to win the award I am offering. He is an Agent-of-Change.
To be clear, I don't really know what my particular Agent-of-Change award is exactly, but I think it explains itself. The award derives from the event, "Why GOOD Guys - Guys Overcoming Obstacles to Diversity - Are So Important," presented by CWL and National Conference of Women's Bar Associations (NCWBA) earlier this month to engage men as agents of change. At the GOOD GUYS event, NCWBA introduced and now offers to its members a toolkit on how to engage, encourage, promote and honor men as agents of change. It can be accessed here. See http://ncwba.org/programs/good-guys-toolkit/.
Let's all replicate this event or create our own versions of it. For me, I am offering this Agent-of-Change award. And as long as I am editing this newsletter, I will find a man to give it to when the opportunity presents itself.
Last month, before I made this award "official", it was Judge Paul Grewal. He sanctioned a male lawyer for telling a female lawyer during a deposition to stop raising her voice because "It's not becoming of a women." This month it's former President Jimmy Carter. Last year, Carter wrote a book called A Call to Action: Women, Religion, Violence and Power, a book that explains that the most serious, pervasive and ignored violation of basic human rights is the ongoing discrimination and violence against women and girls. Carter is correct. It is an epidemic.
And Carter said that righting this wrong is "going to be the highest priority for the rest of my life," according to a report by CNN. Wow. Hats off to Carter, to say the least.
Carter's initiative is a high-profile example of how a man can help balance the equity between men and women. But all acts, great and small, help. While legal initiatives to battle sex trafficking are fantastic, a male partner offering to sponsor a female associate for the equity partnership track based on her work history could win this award as well. Or it could be a male colleague rebuffing his friend from making comments on his female assistant's well, um, derriere. Or a male associate sharing information about his salary to his female counterpart. Everything helps. We need all we can get, especially in the legal field.
So please let me know of any men that deserve recognition. E-mail me, Andrea Ventura, any stories, questions, or concerns, at [email protected] or call me at (323) 481-6664.
Share this post: